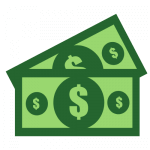 There is no corporate income tax in South Dakota. That's GREAT NEWS for your business!
In 2021, the state of South Dakota was ranked #2 in the Tax Foundation's State Business Tax Climate Index. Their study credited the fact that our state does not have corporate or individual income tax, benefitting prospective businesses and residents alike.
As a South Dakota entrepreneur, you will have a competitive edge over all your counterparts in the rest of the United States. The South Dakota business person enjoys:
No corporate income tax
No personal income tax
No personal property tax
No business inventory tax
No inheritance tax
Are you ready to bring your business to Yankton?
View detailed tax information at the South Dakota Department of Revenue's website.